NOTE: We have seen instances where installing the SPA-3000 behind a firewall which blocks ICMP packets causes problems with registration. Try turning off any ICMP blocking on your firewall.
STEP 1
You must first determine what IP address it received. To do this, you need to pick up the phone attached to the Line 1 jack and dial:
**** (four asterisks)
then dial: 110 #
and you will be told the IP address of your device (e.g. 192.168.0.1)
STEP 2
Go to any browser equipped computer on your network and enter the address: http://<IP ADDRESS>/
(where <IP ADDRESS> is replaced by the address that was given to you in STEP 1.
STEP 3
Click on the "Admin Login" button near the top right side of the screen, then click on the "Line 1" tab.
STEP 4
You need to modify only a few parameters from the factory default. They are listed here:

Proxy:

sip.connectel.com.pk:7060

Display Name:

Enter your full name, this will show up as part of your callerid.

User ID:

Enter the phone number given when you signed up for ConnecTel service.

Password:

Enter the provided password when you signed up for ConnecTel service.

Register Expires:

2000
Please click on Admin Login in top right corner of configuration page and then select Advance. And make sure that your settings are as follows:
In System:
In SIP: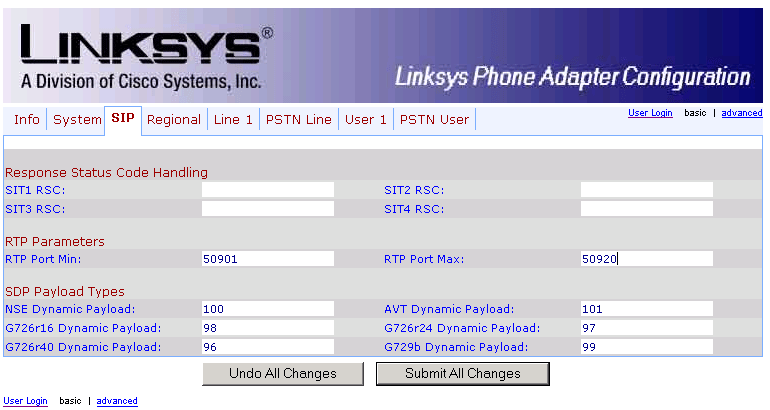 In Line1: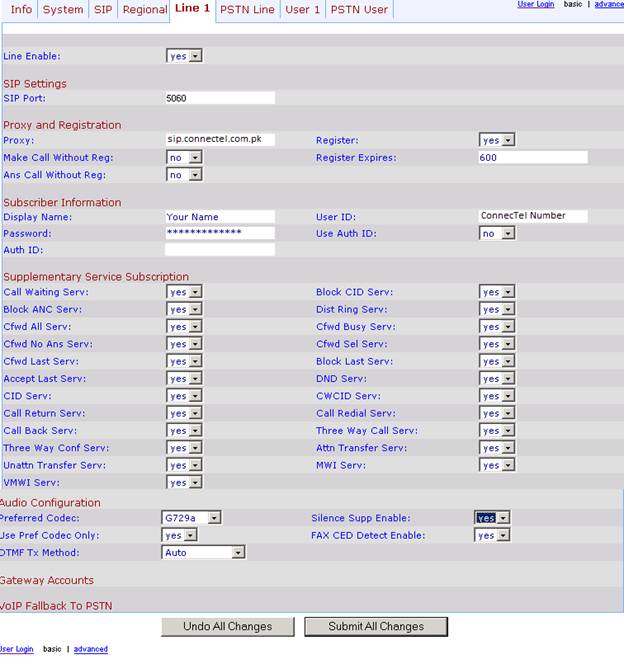 STEP 5

Click on the "Submit All Changes" button at the bottom of the form.
STEP 6
Make calls!
you are now ready to make and receive calls, your phone number is 042-3253xxxx, it can be dialed from anywhere in the world, from PTCL Lahore line, you will have to dial only 3253xxxx.