How To Configure Fring
Fring SIP Settings for voip configuration
Now you can enjoy crystal-clear phone calls over the Internet using any Nokia phone with symbian support and ConnecTel VoIP Services.
Fring is free mobile VoIP software which allows you to talk & IM via your handset's internet connection to other mobile phones and PC-based services with SIP providers such as ConnecTel, as well as Skype, MSN Messenger, ICQ, Google Talk at no extra cost.
NOTE: This configuration guide assumes that you have already signed up and downloaded the application from www.fring.com You can find the installation guide of Fring here.
Here you can find Fring SIP settings and voip setup configuration guide with ConnecTel services.
To add ConnecTel service navigate between the options using the up and down arrows on your handset. Choose SIP from the list (press your joystick in to select items in the list) and press Next using your right soft key.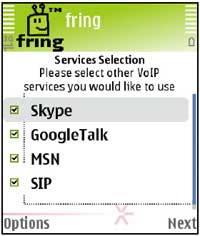 When the following screen appears choose "Other" from the list.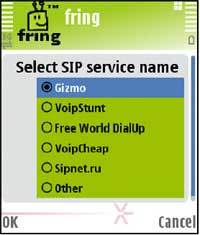 The following screen appears;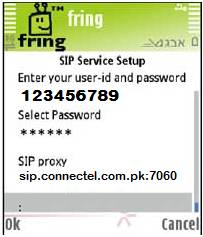 Enter the following for Registrar Server settings
User ID: 123456789 (Instead of 1234567879 account number example, use the account number assigned to you when signed up for ConnecTel service)
Password: Enter the password that you chose when you signed up for the service.
SIP proxy: sip.connectel.com.pk:7060
Once Fring is registered to make a SIP call: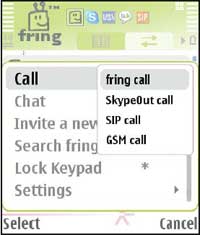 1. Choose a contact in your address book and press Options using your left soft key.
2. From the Call submenu, choose SIP call. Your call is made using the ConnecTel account you have added.
Make Calls!
To dial any phone number that is part of the NANP (North American Numbering Plan), you must dial:
1 + Area Code + Phone number
To dial any phone number that is outside of the NANP (North American Numbering Plan), you must dial:
Country Code + City Code + Phone number
For example if you want to call Brazil (country code 55) phone number in Rio de Janeiro (city code 21) you must dial 5521 and phone number.
Phones Supported by Fring for Mobile VoIP calls
Some of the phones supported by Fring to make mobile VoIP calls are Nokia 6630, Nokia 6680, Nokia 6681, Nokia 6682, Nokia E60, Nokia E61, Nokia E61i, Nokia E65, Nokia E70, Nokia N70, Nokia N71, Nokia N72, Nokia N73, Nokia N75, Nokia N76, Nokia N77, Nokia N80, Nokia N90, Nokia N91, Nokia N92, Nokia N93, Nokia N95, Sony Ericsson P1i, Sony Ericsson P990i and virtually almost any other smybian supported device.